Underground Exterminator
KILLS MOLES!
The Fastest and Most Effective Solution
100% Guaranteed!
The U.S.Veterinarian Analysis
"In a study using only an 8% concentration of gasoline engine exhaust (Normal car emission is 100%), rodents collapsed in 40 seconds and death occurred within 6 minutes. Car exhaust induces unconsciousness in the rodent without pain or discernable discomfort."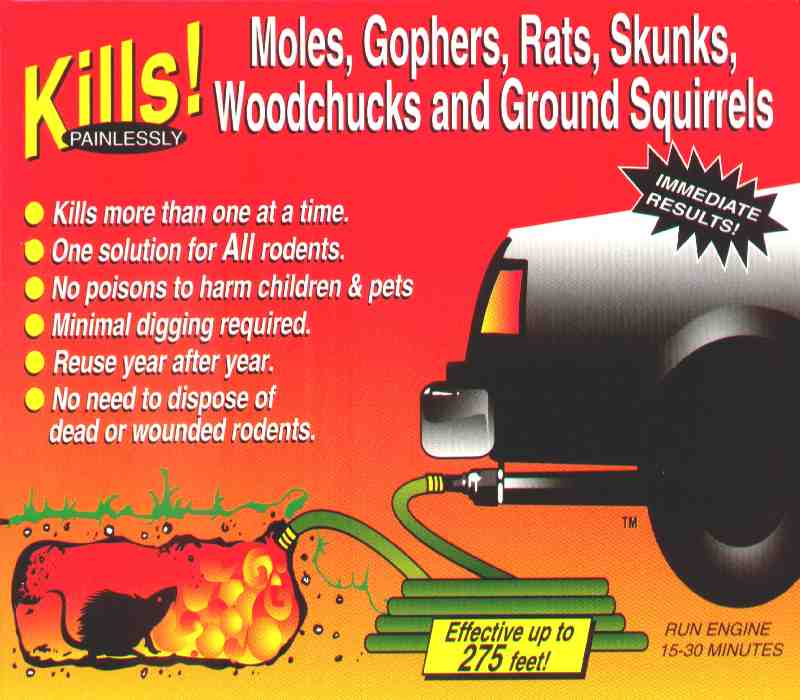 Field Tested and Approved by People Like You:
"Over the years my store has carried every rodent product available today. I've used them ALL in my attempt to get rid of my own mole and gopher problem. Nothing solved my problem until I used the Underground Exterminator. Thanks for a great product, for me and my customers."
MOLE FACT
Empty tunnels will be used by migrating moles in the fall.
Because moles seldom venture to the surface, they are seldom seen.
The mole is built for digging underground, equipped with large, heavy claws.
Moles are solitary creatures except during the brief spring mating.
Ace Hardware - Danville, CA

AVAILABLE AT YOUR LOCAL HARDWARE STORE OR NURSERY BELOW:
IMPORTANT:
click on your local Store below to get a printable info. page that you can bring with you
Manning Products, Inc.
P.O. Box 995
Duluth, GA 30096

FAX: 770-623-8998
Made in USA - Patented
Copyright Manning Products, Inc. 2000